Meet the Athletes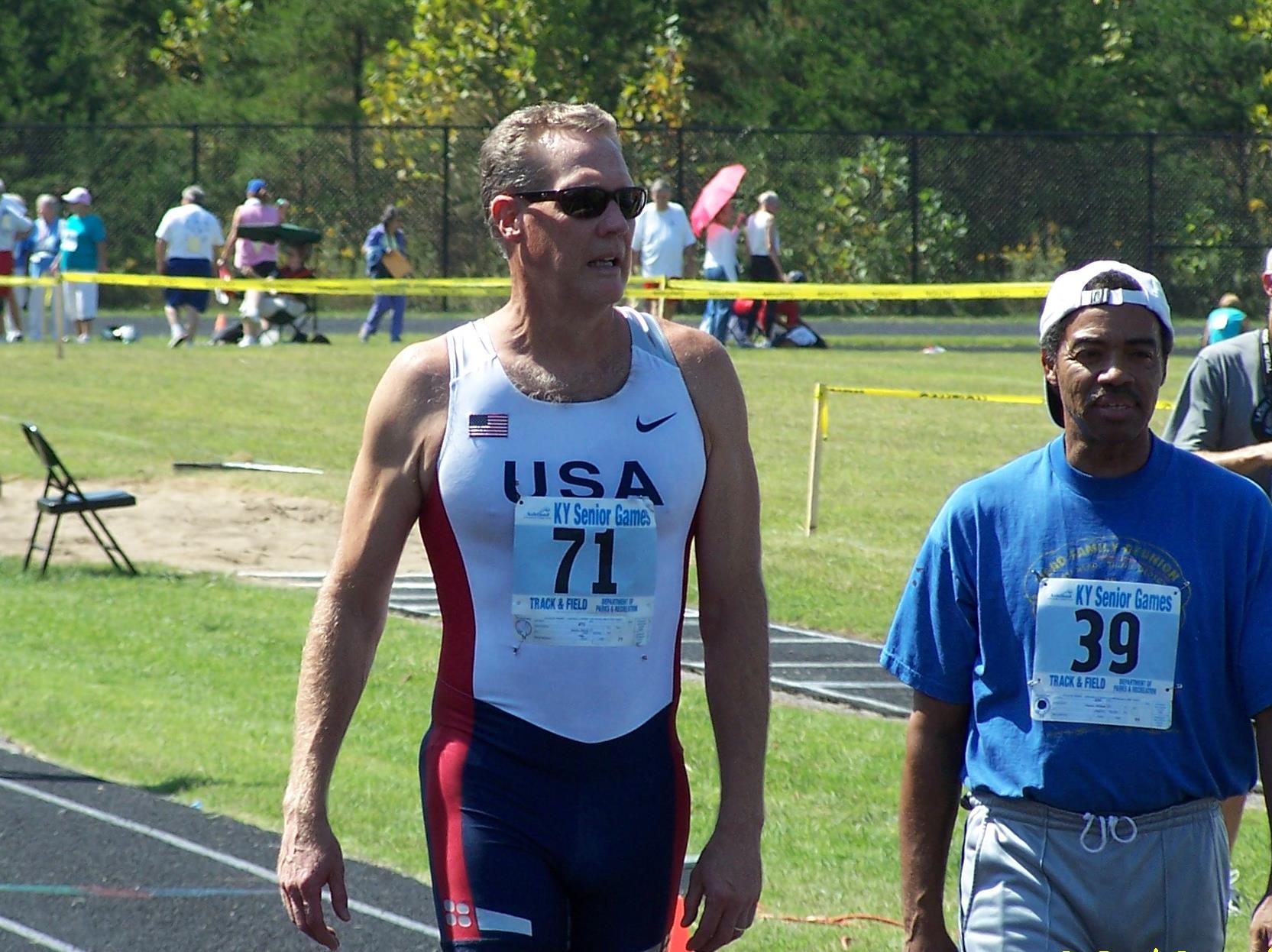 David competed as a quarter-miler for the Ohio Wesleyan University track team where he earned two varsity letters and shared honors with two others as most improved athlete in his junior year. In 2006, David retired from his career as a professor and an educational administrator and returned to his track and field passion. He joined a local gym and hired a personal trainer to help him train for his first track meet since his collegian career.

In his first season as a Masters level competitor, he competed in various Senior Olympic and Masters meets taking home 2 gold medals, a silver and a bronze in the 400, a silver and bronze in the 200 and 2 bronze in the 100. Since then, David has earned 13 All-American Honors in the masters division of the United States Track and Field Association in the 400 and 200 meters. In 2016, he was the USATF Masters National Champion in the 400 at Grand Rapids, Michigan and was the silver medalist in the National Senior Games (Birmingham, AL) in 2017. David is a 2015 inductee into the Ohio Senior Olympics Hall of Fame and holds the Kentucky Senior Olympics record for the 400 in the 65-69 bracket.

Following the 2018 Ohio Senior Championship, he tore his Achilles. After a lengthy rehab, he tore his other Achilles while training in June of 2020. He is back in therapy and is hoping to make another attempt at returning to the oval next year.
Events & Results
Competes in: 100; 200; 400;
Best Age Graded Performances:
86.56% in 200
86.39% in 400
86.16% in 400
85.75% in 400
85.67% in 200
85.36% in 200
85.14% in 200
84.96% in 400
84.89% in 400
84.65% in 400
Athletes in this section are selected randomly from members who have posted a photo and / or input a bio.
WMA is unique. WMA Championships are the preeminent World Championships providing an unparalleled competitive environment for elite athletes, including World Record setters, former Olympians and World Championship competitors while also providing an exceptional World Championship experience for all participants. WMA facilitates fulfilling, lifelong friendships worldwide. Most importantly, Masters Athletics affects lives – Masters Athletics and WMA Championships motivate people to lead a healthy lifestyle.
Get the most from your Rankings!
MastersRankings.com is the definitive source of performance data for Masters Athletics. Hundreds of thousands of performances are added each year. The site is filled with great features that facilitate getting what you want with ease.
MastersRankings.com, Inc. is a US 501(c)(3) Public Charity that is made possible by memberships and contributions. We hope you find this site very beneficial and consider supporting our mission.