Fred T. Harvey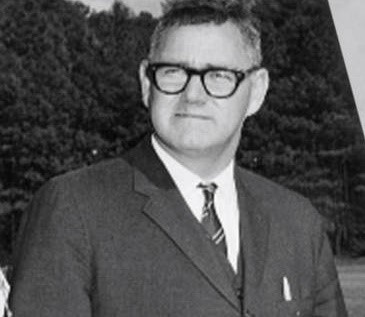 This recognition was made possible by the contribution by one of Coach Fred Hardy's athletes at the University of Richmond.
Fred T. Hardy was the legendary track & field coach and University of Richmond Hall of Fame member. Hardy coached track & field and cross country for 35 years (1950-1985) at the University of Richmond and established an elite program that succeeded on the collegiate and international level. He was known by his student-athletes as a great teacher that elevated every athlete beyond their initial potential.
During his years at Richmond, Hardy coached 45 All-Americans on the men's side and 20 All-Americans on the women's side. He also guided two Kenya Olympic team members (Edwin Koech-6th 1984 Olympic Games in the 800M for Kenya, Sos Bitok-6th in the 10,000M at the 1984 Olympic Games for Kenya) and three NCAA national champions and one AIAW Champion.
Hardy guided Edwin Koech to the NCAA indoor 1,000-yard run and his two-mile relay team won the NCAA indoor event in 1983. He also guided a two-mile relay team to a world record (7:23.09) for an 11-lap track in the Milrose Games and Josephine White to the AIAW 1000M National Title (2:43.33). White went on to establish the women's NCAA Indoor Record in the Mile (4:31.12).
Longtime friend and assistant coach Bill Jordan gave these remarks: "Coach Hardy gave his best for the University of Richmond as an Associate Professor and Track & Field Coach from 1950 until 1985; and his accomplishments as well as his efforts were outstanding. Coach was truly a remarkable man; he not only reached for, but indeed grasped the highest level of athletic achievement in track and field. There will never be another like him, and few indeed who can even remotely approach his accomplishments. He had walk-ons winning Conference Championships, walk-ons qualifying for the NCAA Championships, walk-ons making the US team and competing abroad. Others won National Championships and several competed in the Olympics. At the time of his retirement, the University of Richmond's Track and Field Records surpassed those of any other College or University in the state of Virginia. He was my mentor, confident and close friend for over 55 years. Needless to say, I will miss him."
Hired during the summer of 1950, Hardy retired from the University of Richmond on August 20, 1985. Before coming to Richmond, Hardy coached at John Marshall High School, where he had set the Virginia state high school record in the mile (4:33.3) in 1936.
Hardy received both his bachelor's degree and master's degree from the University of North Carolina. He was one of the Tar Heels' top distance runners and served as team captain during the 1940 season.
Coach Hardy, legendary T&F and University of Richmond Hall of Fame member, passed away on December 16, 2005 at the age of 89.
Login to get more
You will be able to do things easier on MastersRankings.com when you are logged in. The browser on the computer you used also remembers you for over a month (refreshes each time you go back to MastersRankings). Please log off if you are on a public or unsecure computer. Click here to read Users Guide and get more from the site.
Official Rankings of