Masters Track and Field community has lost another special soul, George M. Roudebush III, on March 4th. His obituary includes, on the insistence of his grandsons, Cody and Kelton, his masters accomplishments. He attended many National Championships. In 2018, George, at 93, set the USATF Masters record in M80 Shuttle Hurdle Relay, along with William Jankovich, Robert Paulen and Roger Vergin.
Bill Murray, USATF Masters Combined Events Co-Chair
I received a phone call today about the passing of Masters Track and Field athlete and friend George Roudebush. I remember the last conversation I had with George. It was at the Masters 2019 decathlon championship in Wisconsin, sitting at the hotel bar. George was drinking water. At 94 years of age, I was amazed when George told me that he travels by himself, makes his own hotel, car rental and airline reservations. Always with a smile, George would compete in track and fields most difficult event, the decathlon. Ten events, over two days, consisting of the100 meters, long jump, shot put, high jump, 400 meters, followed on day two with the 80 meter hurdles, discus, pole vault, javelin and 1,500 meters. George was ranked #1 in the world in the M90 decathlon from 2016 through 2019. During that same period, George was ranked #1 in the world for the M90 age group 11 times in various track and field events. Unlike the younger athletes he would compete with, I never heard George complain about his injuries, or the heat, rain or headwinds. Always pleasant and smiling, George will be missed by all, especially the combined event community. Rest in peace George!
Rob Jerome, Photographer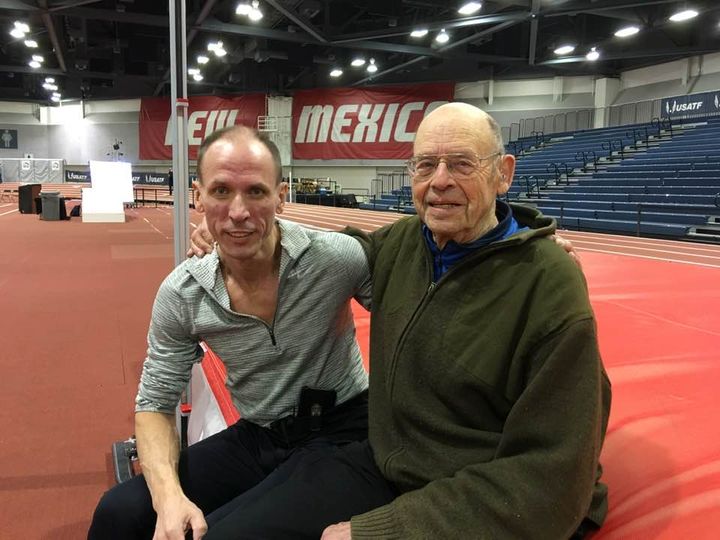 Today, I learned that Masters multi-eventer George Roudebush, 95, died earlier this month. Interestingly, this photo of George and my late friend Karl Hawke came up in FB Memories for me yesterday. I took it the day before 2016 ABQ Indoor Nationals started when I came upon Karl coaching George, 90 at the time, in high jump. George was a good student and actually improved his jumps as a result of Karl's tips, learning from someone 40 years his junior. Just two athletes, sharing their love of the sport … what Masters is all about. RIP, George and Karl.
John Seto, MastersRankings.com
It was always a pleasure receiving an entertaining and uplifting call from George. An email he sent shortly before his first call was confusing and, since it came from someone who was almost 90, I assumed George was not comfortable with computers and the internet. He called and left a message while I was on a call with a 48-year-old athlete who was having much trouble with basic web concepts. Returning the call immediately after hanging up, I wasn't excited about having another drawn out basic website instruction session. George was his typical enthusiastic and bright self when he asked a very good question about record eligibility. I told him where the information could be found and who was an excellent resource. He rapidly replied that he had googled everything he could think of but couldn't find the information, profusely thanked me and said he would email the resource and copy me. George clearly did not act like other almost 90-year-olds with whom I deal! We will miss you George!
Thank you Rob Jerome for all you do for our sport and these photos.