Jovette Jolicoeur, CAN - Age 61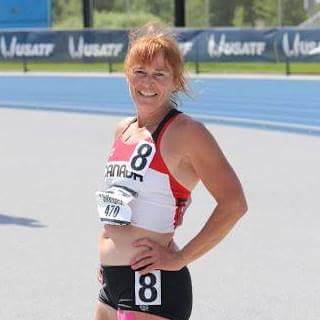 Jovette was born in Disra?li, Qu?bec and graduated from Sherbrooke University with a Bachelor of Sciences in Geography in 1981. Shortly thereafter, she moved to Alberta.

She has participated and competed in many sports, including basketball, volleyball, badminton, bike racing, hockey, speed skating, cross country skiing, triathlon, Olympic Luge (forerunner at the 1991 World Luge Championships, Calgary).

From 1987 to 2001, she trained and competed for road racing and long distance triathlons. In 2001, she represented Canada at the World Long Distance Triathlon Championships held in Fredericia, Denmark.

Starting in 2000, as a master track athlete, Jovette trained under Kim Cousins for Sprints, Discus, Shot Put and Combined Events. In 2004, Jovette fully specialized in the Combined Events (pentathlon and heptathlon), training for 9 years under Speed and Power Coach, Rich Hesketh.

Jovette holds W45, W50 & W55 Alberta records for discus, hammer throw, indoor pentathlon and outdoor heptathlon. She holds Canadian records for the W55 Indoor Pentathlon, W50 Outdoor Heptathlon, the W35 4 x 400m relay, the W50 4 x 200m relay. The latter was run at the 2010 World Masters Indoor Track and Field Championships where the team won the gold medal. Her best international finish was sixth in the heptathlon at the World Masters Track and Field Championships in Sacramento July 2011 with 4218 points establishing a new W50 Canadian record.

Jovette was the recipient of the 2012 Athletics Alberta Master Female Track and Field Athlete of the year.

She joined the ExxonMobil Tigers Track and Field Team in 2000 and has been competing every summer at the USCAA Nationals; an annual track and field and road racing event for corporations.

Jovette is a fully certified Canadian NCCP Club Coach (Level 2) for Sprints / Hurdles and Jumps. As a coach, Jovette is looking forward to passing on her passion for athletics and what she has learned from some of the top track coaches in Canada.