Petra Bajeat's, W50 from France, season started with a disappointment – she missed the European Pentathlon record by only ONE point. The events that followed, however, were impressive. Just before Christmas, she broke European records in Pentathlon (4596 pts) and Long Jump with 5m41. She surpassed her Long Jump record two more times, 5m43 in January and 5m44 (very close to world record: 5m45) during French Championships in February. During same Indoor Championships, she equaled the World High Jump Record with 1m57.
European Master Indoor Championships in Madrid : 3 titles, 60m Hurdles, Long Jump and High Jump with 2 World records: 5m53 in Long Jump and 1m58 in High Jump. Her Long Jump performance was farther than all other women at the championship!
The summer season also continued on this dynamic: European records in Long Jump, 5m30 first and 5m40, and then High Jump with 1m58. Finally, during the French Master Combined Events Championships in July where she broke the World Record in High Jump with 1m61.
At the World Masters Athletics Championships in Málaga in September, not at all discouraged by an injury that forced her to forgo the Heptathlon, she won both the open High and Long Jumps with 1.55m and 5.33m bests.
Summing up her 2018 results: Bajeat 'Grand Slammed' the Long and High Jumps ending her season with two European and two World titles, three World one European Record! Not to be overlooked, she also won her third European title in the 60m hurdles and set a second European record in the Indoor Pentathlon!
Born in Germany, Bajeat competed in combined events at a national level in her home country in junior age categories (U15 to U19). Prioritizing her engineering studies, she stopped competing in 1987 and moved to France in 1992.
Nearly 20 years later, while accompanying her daughter to the athletic school of the CSJB Angers in 2007, she felt the urge to get back into the sport. "I dropped her off at the stadium and it made me want to run, to jump … So that Friday evening, I started".
Just one year later she entered the Indoor World Championships in Clermont Ferrand: "What a memory. I wore the colors of Germany, but I shared also this adventure with the team of France ". As she holds Franco-German dual nationality, Petra later proudly joined the team of France Masters "My first match in Ashton in England in 2008 was an emotional moment."
What followed were several masters national, European and World titles including winning the WMA Heptathlon in 2011 in Sacramento, the WMA Indoor Long Jump, Hurdles and Pentathlon in 2012, the European Long Jump, Hurdles, and Pentathlon Titles in San Sebastian in 2013. Her first European record came in the W45 in Long Jump when she soared 5.67 in 2014. The record still stands.
In 2014 Bajeat suffered a serious injury when she ruptured her cruciate ligaments. Surgery and two long years of recovery followed, as did doubts about competing again. In 2016 her club contacted her to see if she would be interested in entering the Weight Throw at a team competition and to inquire whether she would want to coordinate and train their group of Combined Events athletes. This sign of confidence allowed her to reconnect with the sport of Athletics and competition. "I approached my return differently: conveying the pleasure of using, transmitting and sharing my experience. What a great motivation." She began to slowly return to competition with a new goal, "to make me happy and find my master friends".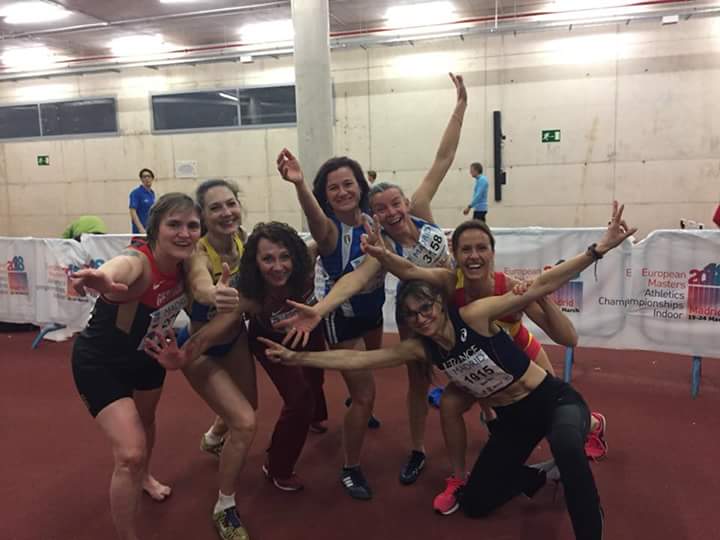 In the summer of 2017, in Aarhus, she returned to the top of the podium, winning two European titles in Long Jump and Heptathlon, previewing the great success that culminated in her incredible 2018 season.
"It is this quest for pleasure that allows me to achieve my results and not the other way around. As such, I like Combined Events because of the sharing and communion with others par excellence."
During the European Championship in Berlin, on French prime time TV, the well-known French journalist Patrick Montel provided information about Bajeat's World and European records. Citing her performances, which he stated he considers her "Great", gave her a, "Respect to Petra" shout out.