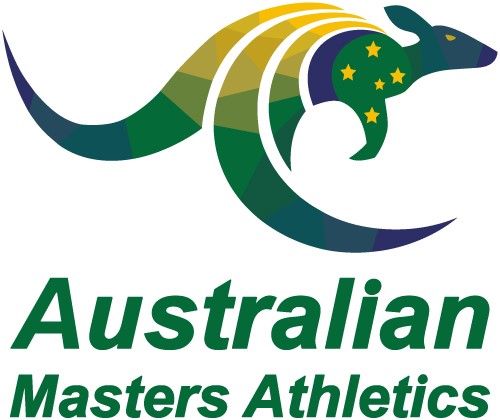 Australian Masters Athletics is excited to show-off its new logo.
The Board of AMA had discussed modernising the logo several times and the lockdown period associated with COVID-19 gave AMA the impetus to move forward on this project. Board member Judy Farrell approached fellow Victorian Judy Pfanner with the brief.
Judy Pfanner is a software developer by day and has pursued graphic design as a hobby for the last 15 years. Judy is also a masters athlete who now enjoys the throwing events having enjoyed the heptathlon as a junior. She said, "In normal times, I don't have enough time to spend on designing but at the moment I have plenty of time to pursue these sort of indoor interests".
President of AMA, Richard Blurton, explained that, "the brief for the new logo was to keep the popular Australian elements of the kangaroo and Southern Cross along with the green and gold colours". He went onto say, "AMA also wanted to portray the closer working relationship with Athletics Australia, hence the inclusion of the "curved lanes".
The Board also wanted a sans-serif font that was easily accessible and usable across many platforms and Arial is a good fit.
Richard added, "the Board and members are delighted with the new logo, but did just check that Athletics Australia and our Masters Clubs had no issues with it"
The logo will be rolled out across the AMA website, social media, uniforms, trophies, and various documents.